When Tony Boy Escalante hosted the Negros Trade Fair exhibitors at his award winning restaurant Antonio's, the chef whose efforts landed the Tagaytay food destination in the Miele's Guide for five years and among Asia's 50 Best Restaurants list, was expressing his support and affinity to fellow Negrenses.
Nena Tantoco, who hails from the sugar lands of the Visayan, enlisted him to support the oldest trade fair in the country. He agreed without hesitation. Nena was effusive in her praises for Tony Boy, who worked with his team to create an exceptional experience that conveyed the hospitality and flavors of their provincial roots.
Happy Twist to a Tragic Story
The sugar crisis of 1980, which saw the plummeting of sugar prices in the world market, displaced many sugar workers and hacienderos who closed their operations when it was no longer viable to sustain. Fortunes were lost and unemployment marginalized once thriving communities.
Nena repeatedly said during the exhibition preview at Antonio's, that from the tragedy of those times rose an entrepreneurial spirit which birthed the creativity and artistry of local artisans. Negrenses turned to handcrafting gifts and housewares, apparel and accessories using indigenous material. A handicraft industry emerged to contribute to the country's exports, providing livelihood for communities that once depended solely on sugar farming as a source of income. Company owners, who wanted to help their province mates, provided skills training and product development specialists, to help improve the crafts for a world market. Samples of their efforts were displayed at a private pavilion in Antonio's, where Tony Boy served lunch with flavors that harken to his boyhood home.
RELATED READS: Local is the New International: ArteFino Fair is Back at 8 Rockwell This August
Specialties and Family Recipes
Senses were treated to a slice of the idyllic countryside experience in a setting that recalled the haciendero's homestead. By Nena Tantoco's account, it was an interaction of inspiration and execution. She pointed to gift baskets designed after the patterns of the machuca tiles on the floor. When an open aparador had no provision for hanging the hand embroidered children's clothes, a branch from a tree with fresh, green leaves still growing, became the garment rod.
Delicacies from Negros were displayed in baskets and woven pandan servers. Bottled specialties and family recipes could be sampled from wood serving dishes and green bottles flattened into appetizer plates. Table accouterment enhanced the setting with 100% cotton linen and plate chargers made from coconut tree parts.
There were runners embellished with crochet works and wood beads with tassles, napkin holders from blocks of wood, folding tables with shell surfaces, salad tossers with pineapple handles and a clever sushi tray made of local wood with a virine for soy sauce.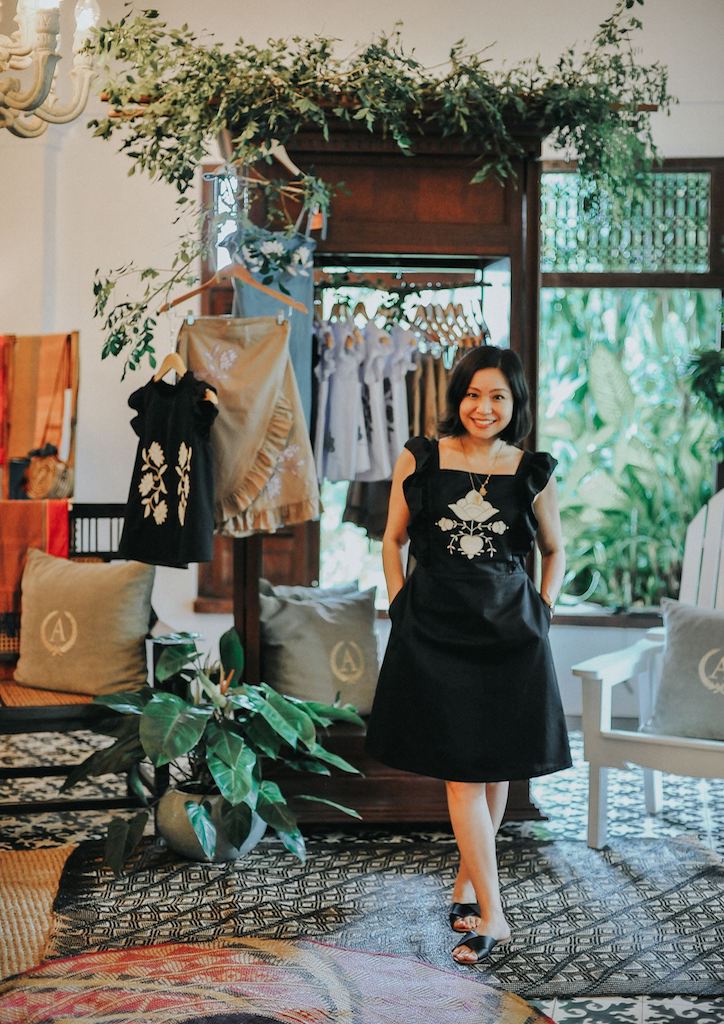 Ode to Sugar
Besides the necklaces of Chievs stones and crystals, and earrings, other fashion items were woven Kate Garter Shoe and Alpagatas shoes, crocheted totes and clutches, embroidered piña tops, jackets and bags woven from plant leaves with leather accents. Among the bags were a set of natural colored bucket bags that also came in brown tones. The former was called fino and the darker one was musco, referencing the refined sugar and muscovado, which are the kinds of sugar produced. Variations of the bags are part of the Azucar collection of KitKat Cusi Lobaton's Kiculo which won the annual Bulawan Design Competition of the Association of Negros Producers.
Other sugar inspired products were miniature wood décor of sugar farming equipment like the molino or cane crusher by Art Energy. Wood based table lamps were fitted with woven lamp shades and octovases by Tumandok Crafts Industries. Art works by Martinez Art House rendered mother and child subjects as well as folkloric women with birds or flutes.
RELATED READS: The MaArte Fair is Back at the Peninsula Manila this August (and We Got a Sneak Preview of What is for Sale)
Pomegranates and Pork Ears Salpicao
Some of the packaged food items were incorporated into the lunch. A demonstration of how the Negrenses cook chorizo was done by Cata Ereñeta-Manaloto, with the sausage fried in its fat served at the table. It required a serving of rice, which was not on the menu but quickly came upon request.  A cold drink made from batuan was served around the two long tables along. Nena Tantoco explained that batuan is a souring agent, much like tamarind, that they used in their food. The burrata served alongside the salad was made by Italian Francesco Patron's Casa Del Formaggio. He had married Isabelle Montelibano and relocated to Bacolod where he produces artisan cheeses.
Besides food stations that allowed a sampling of different foods (including an ice cream cart), Tony Boy Escalante served an inspired plated course. Pomegranates were mixed with salad greens and the savory salpicao was made from pork ears. No one refused extra servings of the botarga, which servers shaved over a plate of pasta, and despite loading to capacity of the appetizers and chips made from yam and potatoes, there was room for main course of Portuguese Style Seafood Stew.
Tony Boy Escalante let the hospitality he extended to his province mates speak for him. They had flown in from negros to present their products at the pre-exhibit event. Nena Tantoco said he was reticent to talk but the message came across clearly. Ina Gaston, in her ending remarks, summed up the occasion that captured the spirit of the Negros Trade Fair. "Negros is really a family. We can't leave anyone behind."
The Negros Trade fair will run from September 26-30, 2018 at the Glorietta Activity Center, Makati City. 
Scroll down to see items you can buy at the upcoming Negros Trade Fair…