From Enzo Razon to Solenn Heussaff, Leeroy New and Paulina Luz Sotto, we've gathered 13 emerging names in the local art scene that you need to keep an eye on. These young people are paving the way into the bright future of the art world, one brush stroke at a time.
Alex Roque
Alex Roque currently works for her family's fashion retail business and also holds position as Brand Manager for her makeup like M& Co. Cosmetics. Despite a busy schedule, the business management graduate still finds time to work on commissioned art pieces. "I've always loved bright colors. Due to the nature of my family's work, growing up, I was always surrounded by beautiful clothes, beautiful colors, bold prints, bright florals and all sorts of makeup. I guess my artwork is a huge reflection of all of that—a mix of fashion, beauty and art," she shared. Alex has branched out of the traditional canvas, also painting on luxury bags.
INSTAGRAM: @alexandraa.roque
Anna Orlina
Anna Orlina is the daughter of celebrated Filipino artist Ramon Orlina. Although her father is one of the biggest names in the art world, the young artist is finding her own feet, studying glass sculpting abroad and also trying her hand in graphic design. In addition, Anna and her sisters are responsible for Tagaytay Art Beat, a Coachella-like festival showcasing the best local artist and musicians looking for a place to exhibit their work. The event is held yearly at Museo Orlina in Tagaytay during the summer.
INSTAGRAM: @emmaanna92
Andrai Antonio
His mother is famed hairstylist Pin Antonio, so we know artistry is in Andrai's blood. However, he decided to pursue a different career, away from the flashing lights of the entertainment world. The young man mainly focuses on unique portraits done in acrylic or oil. However, he continuously pushes himself to the limit, and often tackles mixed media art pieces as well.
INSTAGRAM: @andraiantonioart
Enzo Razon
Enzo Razon always knew he would pursue a career in the arts. In 2017, his debut exhibit, The Children of the Corn, made a splash with local art enthusiasts. He presented his artwork under his moniker Fur On Fire. This year, he recently launched Tarzeer Pictures with his close friends Gio Panlilio and Dinesh Mohnani. The creative production agency and gallery, promotes the creative spirit of local artists by celebrating them through in-house exhibitions and publications.
INSTAGRAM: @enzorazon
RELATED READS: To the Philippine Youth, Tarzeer Pictures' First Exhibit "Barado" Cannot Be Missed
Jay Yao
Well into his late 30s, Jay Yao is the eldest artist on the list. However, his resume speaks for itself, garnering him a deserved spot on our list. He started photography when he was only 16 years old, which resulted to numerous accolades, special mentions, and expositions around the world. Today, he has expanded to other visual arts including digital graphics and mixed media.
RELATED READS: SNEAK PEEK: The Winners of the 2018 Metrobank Art & Design Excellence Awards (MADE)
Jono Pisano  
28-year-old artist Jono Pisano just exhibited a very successful show called Breakpoint at the Joya Gallery earlier this year. The title of the show refers to the breakpoint in a tennis game, where one opponent is a point away from victory. "Right now I'm obsessed with parallels and host lines—things being placed beside each other," he shares about his latest collection, which was inspired by photographs commissioned by Albert Khan, a philanthropist and architect who gained prominence in the early 20th century.
INSTAGRAM: @jonopisano
Leeroy New
As pointed out by his Instagram account, Leeroy New is fascinated by the idea of "mutations". The young artist is a rising name in the Manila art scene, making his works (painting, installations, and wearables) a high commodity amongst collectors. His impressive resume includes designing the muscle dress (with Kermit Tesoro) worn by Lady Gaga in her Marry the Night music video.
INSTAGRAM: @newleeroy
Monica Ramos
As a child, Monica often scribbled on paper. When she ran out, she drew on arms of school friends using markers. A graduate of Parson's, the New York-based artist has found her medium in illustration. She has been featured in the New York Times, on the Christmas decoration of Jo Malone boxes, the front cover of Alain de Botton's The Course of Love, and on the fashion runway of designer Rachel Antonofff, for whom she did illustrations for.
INSTAGRAM: @moniiqwa
Mykie Concepcion
Mykie Concepcion's work leans towards realism, with subjects that are usually people, still-life and sceneries. "I do my best to depict things that bring me happiness and love, because (as cheesy as it sounds) my personal goal is to spread positivity with my art." This year, Mykie was part of Lifestyle Asia's annual 30 Game Changers List, recognizing young people making a different through their chosen field.
INSTAGRAM: @mykielykie
RELATED READS: Lifestyle Asia Game Changers 2018: Meet the 30 Millennials Making a Difference in the World
Paulina Luz Sotto
It was only a few years ago when Paulina Luz Sotto started doodling and became captivated with the line, something she said was "so simple, and yet so beautiful, with endless possibilities." Today, Paulina is a full-time visual artist, having numerous successful solo exhibits in and around the metro.
INSTAGRAM: @artbypaulina
RELATED READS: Meet The 7 Millennials That Are Next in Power
Solenn Heussaff
Actress and make-up artist Solenn Heussaff is also a self-taught painter. She has had two solo exhibits. "I loved my first exhibit. It was the first time to open up to people, sharing that private self. My paintings are my emotions. If I'm sad or I'm angry, it usually shows in my brush strokes. For my exhibit entitled Kalsada, I took photos of kids on the street or got from my friends. I wanted to show what the Philippine reality was, not just the glamor of the beaches but also the daily lives of the people on the streets," she shared.
INSTAGRAM: @solenn
RELATED READS: The Proposal of Nico Bolzico to Solenn Heusaff (Or How #BulliedHusbandClub and #Wifezilla Got Together)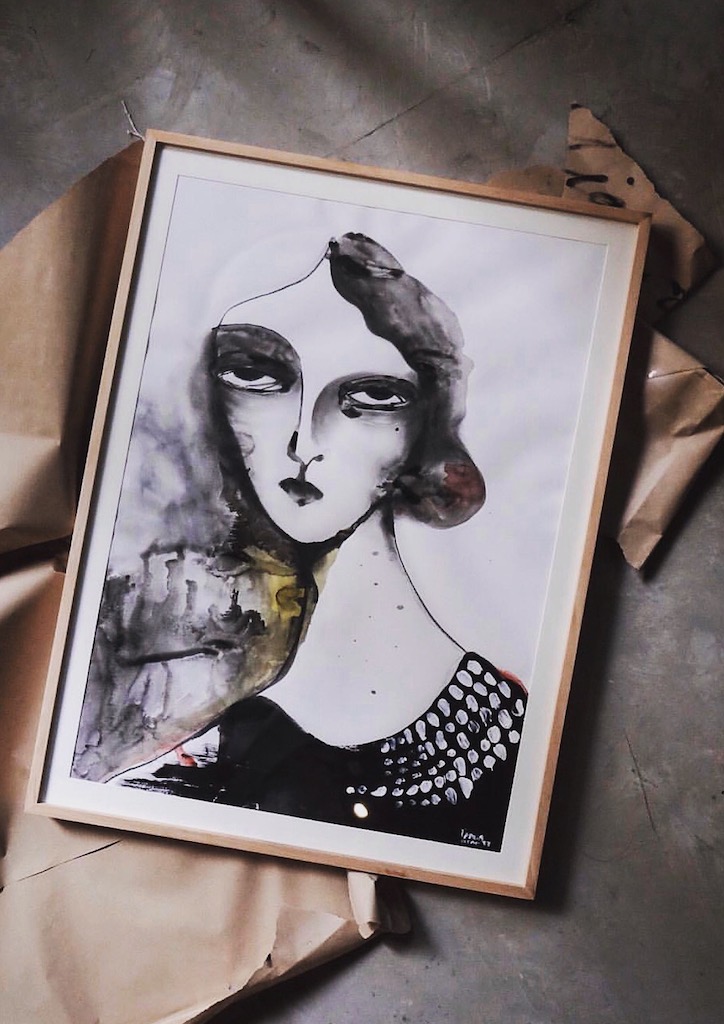 Tom Bucag
Tom Bucag's visual style is very reminiscent of the flapper women of the 1920s. When looking at his very distinct black and white pieces, it very well screams, "fashion!". Apart from selling his work to aspiring art collectors, Tom has also been commissioned by several local magazines for his stylish work.
INSTAGRAM: @tombucag
Yeo Kaa
It's undeniable that Yeo Kaa sees the world in a very special way. The young artist's whimsical and colorful work has been exhibited abroad, including Art Basel in Hong Kong. Yeo Kaa is also very active on her social media account, often sharing her artistic process to her thousands of followers.
INSTAGRAM: @yeokaa