"I get a sense of fulfillment when my guests have a wonderful time when they are in my home."
"Simply put, the goal was to try to achieve the perfect balance between form and function," says Alice Eduardo.
READ ALSO: Billion Dollar Shot: Chance Photo Of Richest Men In Philippines Goes Viral
The woman who founded Sta. Elena Construction and Development Corporation has graciously invited us into her vacation home in Beverly Hills. Since Eduardo is someone who oversaw and continues to oversee development in a large scale, it would be interesting to see what her thought process is in building her own spaces of rest.
To the "Woman of Steel," a moniker she has adopted over her years of leading her company to the prominence and authority it has today, her work and what she looks for in her own home align.
"Making a mark for herself since 1995, she led her construction firm, now an AAA and Large B company which means it has a capitalization of at least P300 million and qualifies to bid for any billion-peso project, to what it is today," reads her bio on her website.
"I look at every commercial project as a passion project. Each is a fresh opportunity to display our expertise in the field. The end user must be safe, comfortable and able to perform their activities in the most efficient way possible," Eduardo says. "My approach to building a house is no different."
Eduardo says that she picked Los Angeles as the location of this house because it is a convenient base; there are easy flights, milder temperatures, a good mix of accessible urban and outdoor pursuits, and a vibrant dining scene.
She finally settled on this Beverly Hills property because of its greenery. "I looked at a few properties before deciding on this one," she shares. "I love gardens and trees."
The property, Eduardo points out, had a magnificent garden. "I had the space for me to plant plenty of orange and olive trees," she says. "The location was also ideal, and I felt I could best carry out the aesthetic I had in mind."
Although she describes her latest home as modern tropical, the aesthetic she has is rooted in her love for Italian style.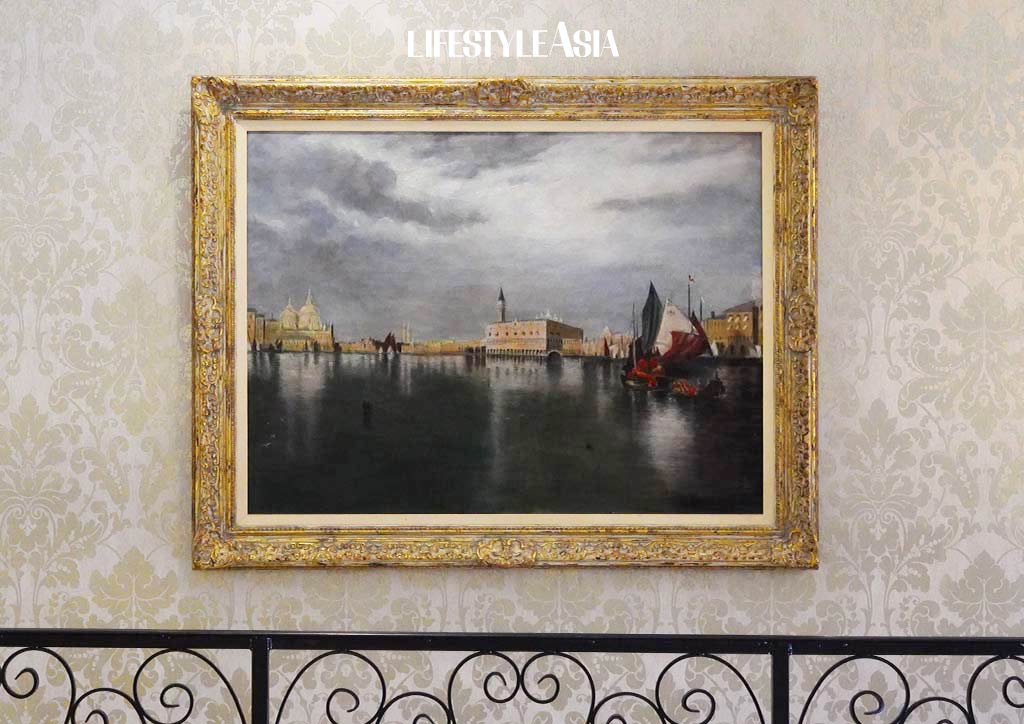 "The gardens in Italy are so appealing for me. I tried to emulate the classic designs with emphasis in the symmetrical and manicured look. I love the fountains, ponds, bed of roses, boxwood plants, as well as the olive and orange trees," the president and CEO admits, who says that her other homes express a Southern Californian and Italianate style.
Friends and family
Before she moved in, she had to make sure that a few essentials were taken care of. This included having basic feng shui addressed, making sure the flow of air and natural light in the home was optimal, and having a functional dressing room and bathroom. "The view from each window also had to be as inviting as the view from within," Eduardo adds.
She also says that it was "important that my parents could easily and safely move about the grounds on even terrain, and be able to enjoy the garden."
This consideration is a common feature among her houses. All of the spaces they inhabit has to feel comfortable for her family, which also includes her three children; their comfort is her top priority.
But, of course, the home must also be an expression of who Eduardo is. For this, she enlisted the help of Architect Ed Calma to work on the interiors of her LA home. "He tried to create a space that reflects one's personality, a space one can truly call their own," she says, adding that she found the collaboration enjoyable.
She singles out her bedroom as one of these places. This is where she "can let me hair down and spend some all-important 'me for me' [time]."
Woman for others
Outside of Sta. Elena, Eduardo is also passionate about several initiatives. This includes the 320-square meter pediatric ward at the Philippine General Hospital, which she says she is doing to build hope the young cancer patients there.
"She is also a stalwart partner of Go Negosyo, a program of the Philippine Center for Entrepreneurship that targets the local entrepreneurs. She shares her entrepreneurial journey through summits and conferences. Through talks, she hopes to inspire and ignite more Filipinas in finding their passion and pursuing their dreams. She also offers mentoring sessions to aspiring entrepreneurs," her website reads.
Naturally, because of all these passion projects, she finds herself entertaining guests once in a while at her home. "I get a sense of fulfillment when my guests have a wonderful time when they are in my home," the philanthropist says.
"There are functional table areas in my home that double up as meeting and meal venues for engaging in productive conversations. I find myself spending a lot of time during the day at these table areas."
Eduardo also tries to "accommodate guests' preferences whether it be with the choice of cuisine or coming up with ways to make them feel comfortable with the hope that every element of the event exceeds their expectations and makes them feel special."
At her own home, the Woman of Steel readily shows the softness of her heart.
Photos by JULIAN NIETO, assisted by STAR NIETO
Shoot coordination: DONG RONQUILLO and MAE TALAID